Travel Blog: Seoul, South Korea
16.09.2016 - 24.09.2016
28 °C
South Korea has been on the bucket list for number of years thanks to stories from other travellers, what I've read and interest in the North and South Korean situation. I flew from Taipei into Seoul pretty late and was immediately impressed with the airport and subway system which took me right into the city centre. Seoul, the countries capital is huge and it's difficult to comprehend the sheer size of this place. There are 10 million people yet the efficiency of the subway system and the fact that there a multiple business districts means connecting Seoul over such a large area means you don't notice it as much as say Hong Kong. It's a fascinating and buzzing metropolis with modern skyscrapers, pop culture, along with historic Buddhist temples, palaces and traditional street markets.
It was great to catch up with a good mate Byeongsu, a Seoul local that we lived with in Canada and who visited us in Australia only a month or so before. He took me too some cool parts of Seoul including Gwangjang Market, Gyeongbokgung Palace, Cheonggyecheon, a light show at the Han River and more. We ate raw beef, had a traditional Korean BBQ and generally a fantastic time in such a bustling city.
Like anywhere in the world that you travel to, you can either go on your own or as part of a tour but nothing beats being able to really understand a place through chatting to a local. Having someone to ask loads of questions to and finding out all you can about a place in terms of what they do and the way they live allows you to really understand more about their culture.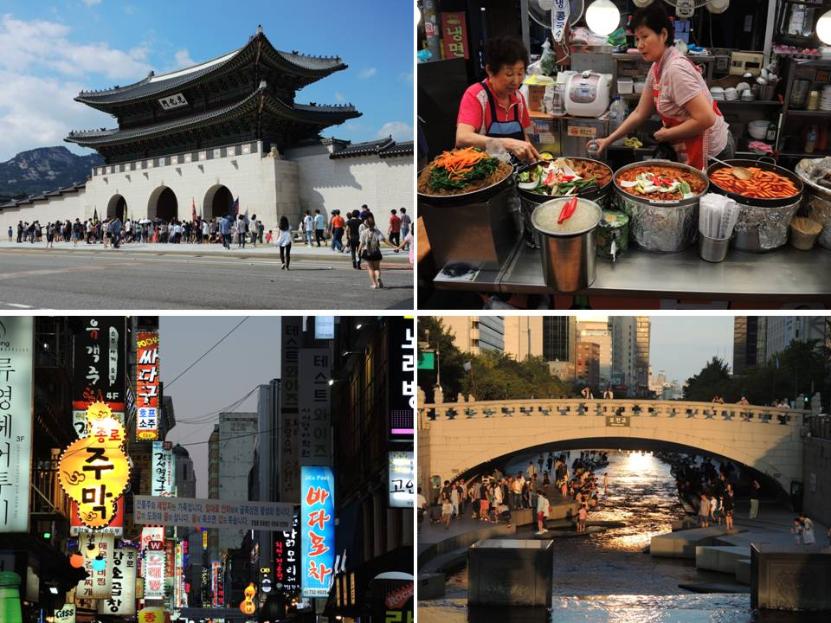 Sights in Seoul
Cheonggyecheon - a 10+km long stream and recreation space in downtown Seoul
Gyeongbokgung Palace & Museum - Impressive palace built in 1395
Myeong-dong - Seoul's shopping capital with cathedrals and markets.
N Seoul Tower - The best way to get a grasp of the sheer size of Seoul.
Changdeokgung - World Heritage listed palace and one of the 5 grand palaces build during the Joseon dynasty.
Deoksugung Palace - with a regular Royal Guard ceremony.
Jogyesa - Impressive Buddhist temple & grand main hall.
Heunginjimun - One of the 8 historic gates of the original Fortress Wall.
Changgyeonggung - Another one of the 15th century royal palaces.
National Folk Museum of Korea - Interesting museum for Korean customs & culture
Namdaemun Market - Good for shopping.
Banpo Bridge - A two-level bridge over the Han river with a rainbow water show.
Kukkiwon - The Taekwondo World Headquarters, great place to check out a demonstration.
Bukchon Hanok Village - A traditional Korean village.
South of the river 'Gangnam' was also well worth checking out. It's where the wealthy live, so modern buildings, fancy cars and exclusive shopping is everywhere.
Similar to Taipei, I stayed in two different parts of the city. First in a hostel in the shopping area of Myeong-dong and then in Bukchon, a traditional Hanok Village. The Airbnb guest house in Bukchon was fantastic thanks to the nice couple I stayed with. They cooked up some delicious dinner, breakfast and took me on a walking tour around the local area.

Even though the city is huge, it's scenic as it's set among mountains that surround it's core. Going up into Seoul Tower allows you to see just how beautiful this part of the world it is. However there is a mountain range that eclipses the beauty of the mountains surrounding Seoul and it's called Seoraksan. It's about 2 1/2 hours on the bus east of Seoul.