Travel Blog: Exploring The World, The Nomad Way
We set off a few years ago on a trip over to South America and beyond. Read about our experiences in our blog below and check out some more photos from this trip in Nomad Prints...
Travel Blog: Serbia - Belgrade
11.11.2014 - 12.11.2014

13°C
Our stay in Belgrade was just not long enough. We arrived after dark in the evening and had to catch a morning flight out the next day. We made the most of it however, thanks to some helpful advice from our host at Hostel Revolution.
We walked most of the major areas within the city, first stopping at Skadarlija street which is full of very nice restaurants. We indulged and ate a delicious casserole at a restaurant called Tpu Wewupt. After checking out Knez Mihailova street, another pedestrian area, we ended up at the Belgrade Fortress! This place is open 24/7 and seems to be the place for young people to hangout.
We returned the next morning to get beautiful views over the Danube and Sava rivers. The other side of the river has actually never been developed, which is in stark contrast to most other cities of the world. People here must not have valued river views! It won't stay like this for long however as there is a $3 billion plan underway to redevelop the whole area.
A bus to the airport and the European leg of our adventure had come to an end! The time to return to Australia had arrived.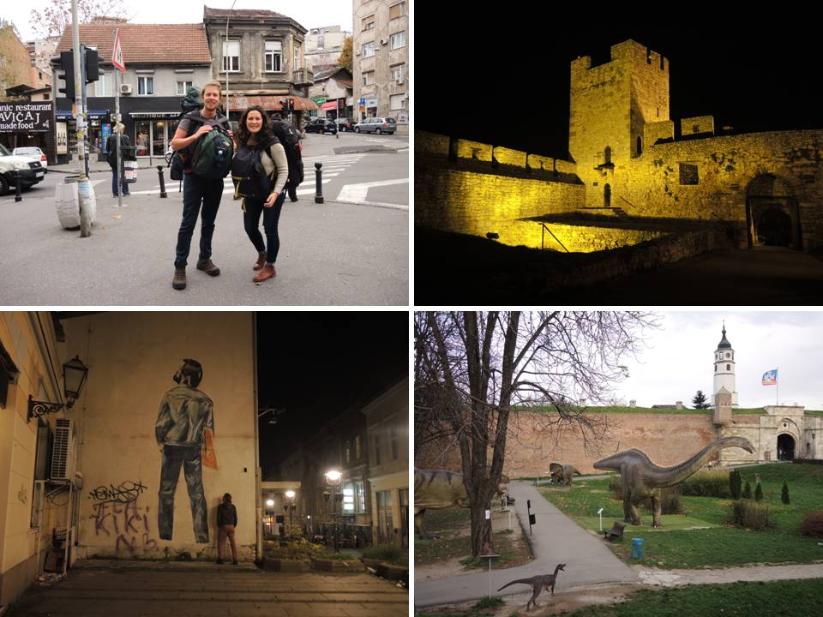 Travel Blog: Albania - Tirana
10.11.2014 - 11.11.2014

16 °C
Tirana is the capital of Albania, 2 hours south of Shkodër. It's a busy bustling metropolis and unfortunately for us we could only experience it for 1 night. We stayed at the very comfortable Tirana Backpacker hostel with a great outdoor area. Loads of oranges were also perfectly ripe on their orange tree, so we weren't lacking in vitamin C after our visit.
The Scanderbeg square is home to the National Historical Museum, National Theater of Opera and Dance, and the Ethem'Beu Mosque. It was busy with traffic and people mingling, in fact the whole city seemed to be. The International Centre of Culture pyramid was build by the Russians in 1988 and is now used as broadcasting center by Albanian TV channel Top Channel. At night it's a pretty eerie sight. The Blloku district was once home to the elite Albanian politburo during the communist era. The area was gated just for them and therefore it is full of impressive old architecture. It's now an up-market shoppng and restaurant district.
We had some very tasty Albanian style doner kebabs, which were delicious and got an early night before an early bus to the airport the following day.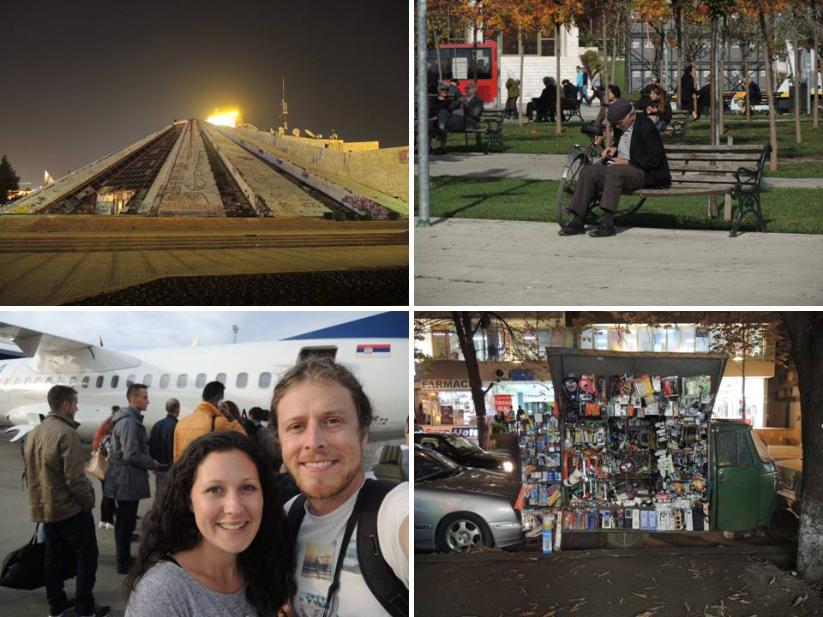 Travel Blog: Albania - Shkodër
09.11.2014 - 10.11.2014

18 °C
After a 1.5 hour bus ride we landed in the heart of Shkodër, a city located in northern Albania. We stayed at the centrally located 'Mi Casa es Tu Casa' hostel, a quirky and very welcoming place to chill out for a few days.
We didn't have any expectations for the city as it was predominantly a stop-over to get to Tirana. Apart from Rozafa castle, there aren't too many major sights for a traveller however we really enjoyed unique Albanian culture. There are coffee houses everywhere and they are all full of guys drinking espresso. It seems coffee is the drink of choice and most often it's guys hanging out with guys - not sure where the girls were!
You do notice some economic differences with other European countries, since the Socialist Republic was dissolved in 1991 and the Republic of Albania was established. The last 24 years has seen political unrest including a financial collapse and also affects from the Kosovo War. There seems to be less wealth in general and an ageing infrastructure.
The people are friendly and vibrant, which was noticeable as we walked along the Bojana river, and as we ate some tasty Albanian food at a restaurant called Peja. This was just one of the many local restaurants, which cook up local specialties each day and offer a menu that is based on what food is freshly available. They keep the food warm in a bain marie and you just select what you feel like. No listed menu with prices was a good change! We had pasta, potatoes, a range of veg and some Albanian sausages.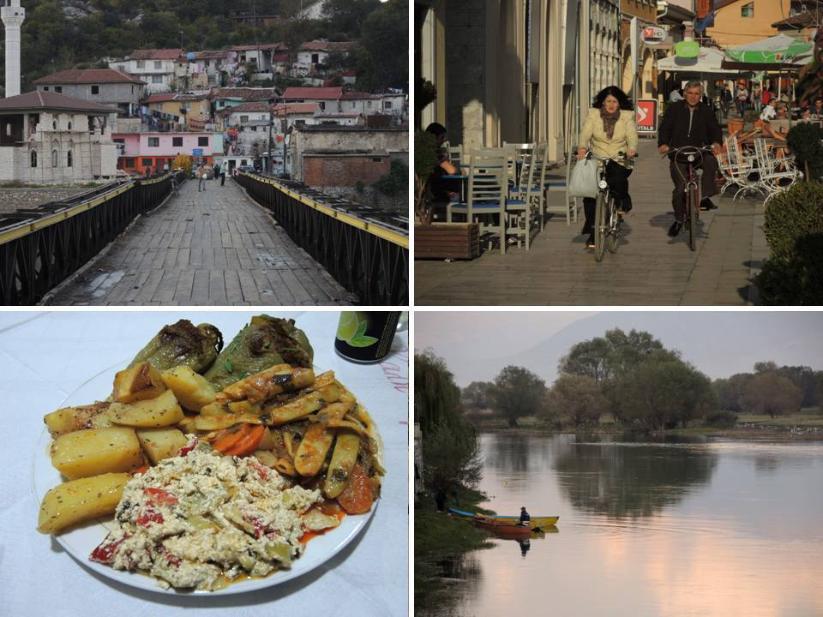 Travel Blog: Montenegro - Ulcinj
08.11.2014 - 09.11.2014

23 °C
Our next stop was just one night in Ulcinj, southern Montenegro. We booked an apartment at 'Apartments Adriatic' which had great view over the town and ocean. After a tasty dinner at Pizze Bife we walked the bustling waterfront, followed by another walk in the morning throughout the old town. It was nice but also felt a little sketchy in the area between the town centre and the bus station.
It was a short stay, next up - Albania!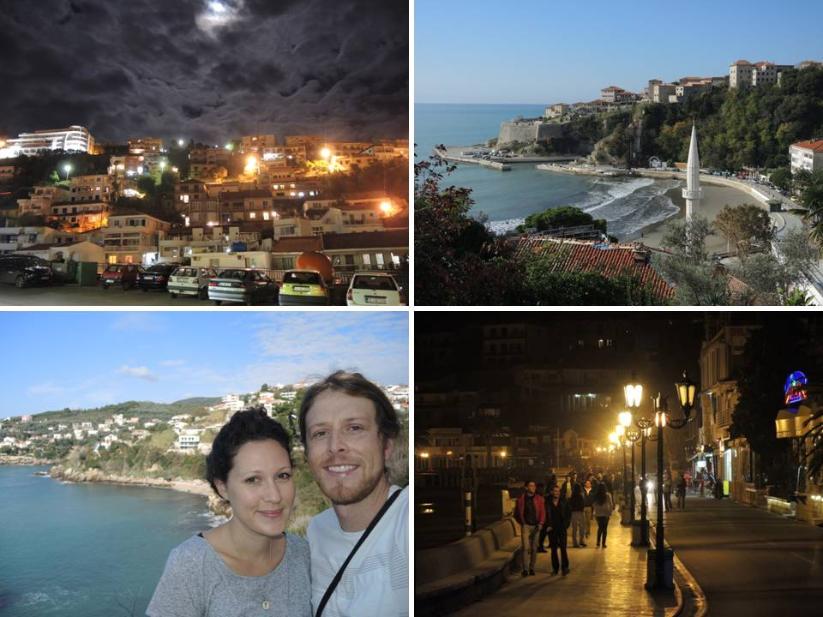 Travel Blog: Montenegro - Kotor
05.11.2014 - 08.11.2014
22 °C
From Dubrovnik, we headed south into Montenegro en-route to our fly out destination in Albania. Kotor had been recommended to us and we completely forward on that recommendation! It's a wonderfully preserved walled in town set on among mountains and the Adriatic sea. It dates back to the 7th century. The town wall climbs up the mountain side to the Castle Of San Giovanni which gives you a stunning view. Inside the old town you can get lost in the labyrinth of lane-ways which were purposely designed that way to confuse potential invaders.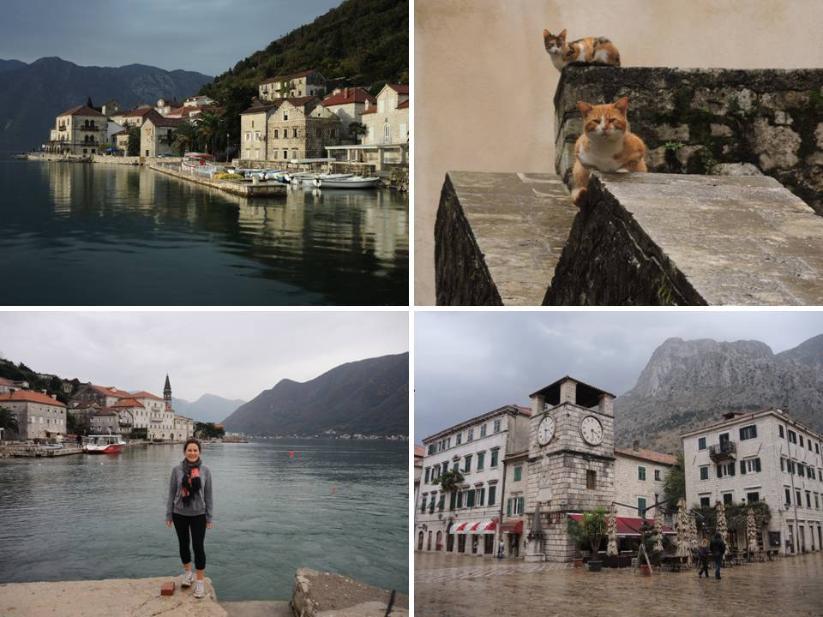 We took a day trip to the nearby town of Perast. Perast is a small town with two unique islands, one of which is home to R.K.C. Gospa od Škrpjela cathedral, which you can take a small boat out to.
Our hostel called 'Old Town Hostel East Wing' was just about as good as it gets, set inside a 500 year old building with great amenities and a good group of travellers at the time we stayed. Great price too, only 12 euro's per per person with an en-suite. Our favourite place to eat was Mesara Tanjga, with loads of fresh salads and veg but also all kinds of raw meat. You just choose your type and cut, and they cook it up! All for about 4 euros.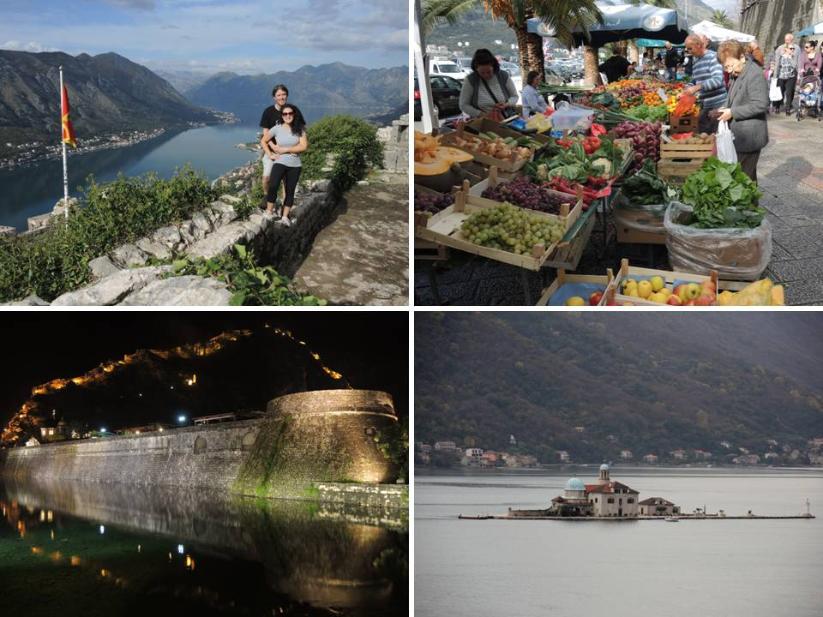 Recent Travel Blog Entries

Serbia - Belgrade
Albania - Tirana
Albania - Shkodër
Montenegro - Ulcinj
Montenegro - Kotor
Croatia - Dubrovnik
England - Cotswolds
England - Oxford
England - London
Slovakia - Bratislava
Poland - Warsaw
Lithuania - Vilnius
Latvia - Sigulda
Latvia - Riga
Estonia - Tallinn & Haapsalu