Travel Blog: Hualien & Toroko National Park, Taiwan
11.09.2016 - 13.09.2016
30 °C
I was really looking forward to the next part of the trip. After jumping on a train in Tapei's central station, I headed east and then south down Taiwan's east coast toward Taroko National Park. The nearest town to access the national park is Hualien. A small yet vibrant town with great food, weather and a really cool night market. I stayed at the very nice Sleeping Boot Backpacker Hostel which is right in the centre of town.
Taroko national park is big and you could send many days exploring the various trails from short hikes to multi-day treks. With limited time, there are basically 3 options: jump on a day tour from Hualien, utilise a hop-on hop-off bus service or rent a scooter and have full freedom flexibility.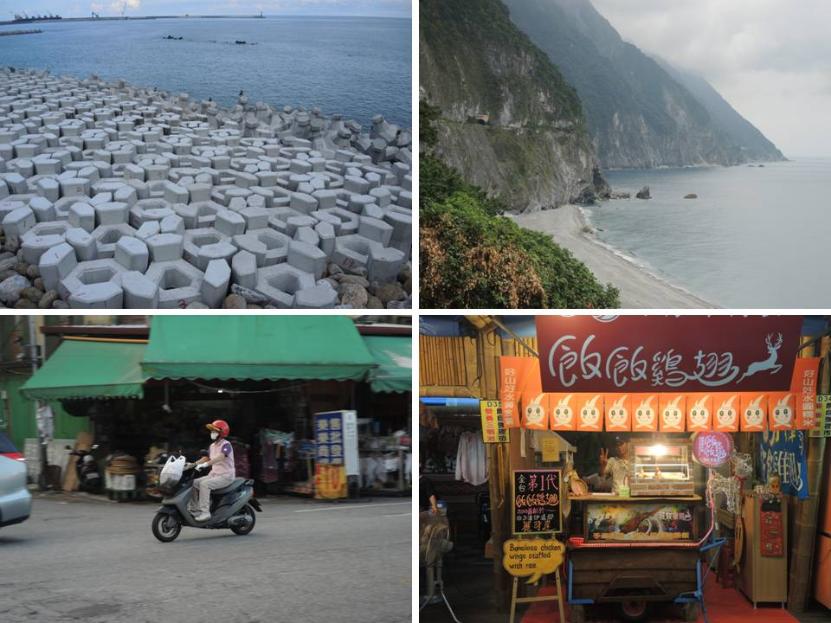 Of course I rented the scooter (after checking my travel insurance). It cost 500 Taiwanese dollars and after signing a the written contract (all in Chinese) off I went for the day. The ride up to the park was around 30 minutes away and one great thing that I had was a map of Taiwan download to my phone with the app 'Here Maps'. With headphones in, it allowed me to have full offline voice navigation which directed me to Taroko National Park. Much easier than having to stop all the time to check a paper map and try to work out what the street signs said. I just enjoyed the ride.
I first went and checked out Quizing Beach which is about 7 kilometres north of Hualien and then went on to Chingshui Cliffs which is where the ocean meets 800 metre mountains. It's these cliffs that form the entry into Taroko National Park. Following a river into the national park, you're suddenly dwarfed by these huge sheer cliffs either side as the road winds through a gorge. Along the way there are trails, rivers, temples and another buildings to check out. It was fantastic. The further you go, the more the road climbs, up to 1,000 metres in altitude and well beyond that.
Some must see highlights of Taroko National Park include:
Shakadang Trail
Changchun (Eternal Spring) Shrine
Yanzikou (Swallow Grotto) Trail
Jiuqudong (Tunnel of Nine Turns) Trail
Cimu Bridge
Lushui Trail
Xiangde Temple Trail
After the last stop, I kept riding and as the road climbs, you have amazing views back towards the ocean. Daylight and rain was the only issue, so I quickly got back on the bike and rode back towards Hualien. I was back in time to go to see the night market again enjoy some more food before dropping the scooter back at around 9:30pm. It was one of those great days, where you find yourself enjoying every minute.
I did plan to spend another day in Hualien but decided to go back to Taipei via a one night stopover in Jiufen, a place that had marked before the start of the trip but didn't think I'd have time to visit.