Travel Blog: Gyeongju, South Korea
26.09.2016 - 28.09.2016
25 °C
Gyeongju is often referred as a museum without walls, which is certainly apparent when you get out of the bustling centre. Gyeongju and its surrounding sites seem to be the cultural heart of South Korea. I stayed at Guesthouse Momojein which was great. Plus it's conveniently located south of the river and not far from the regions cultural gems.
Sights in Gyeongju
Cheomseongdae - One of the world's oldest astronomical observatories, constructed in the 7th century.
Daereungwon Royal Tomb - A large grass covered mount that is an ancient burial tomb of a king where 11,000 artefacts were uncovered.
Gyerim - A woodland area right next to the site of the Silla kingdom palace.
Donggung Palace & Wolji Pond - Built in 674, this area contains ruins of a palace and fortress, along with gardens and a man-made pond.
Bulguksa - Built in 528, it's a stunning UNESCO World Heritage listed temple in among mountains. This is a bus ride away from Gyeongju.
Seokguram - Part of the Bulguksa complex (a 4km bus ride away at Mt. Tohamsan), Seokguram is one of Korea's national treasures. It's a temple that houses a Buddhist sculpture, regarded as one of the best in the world.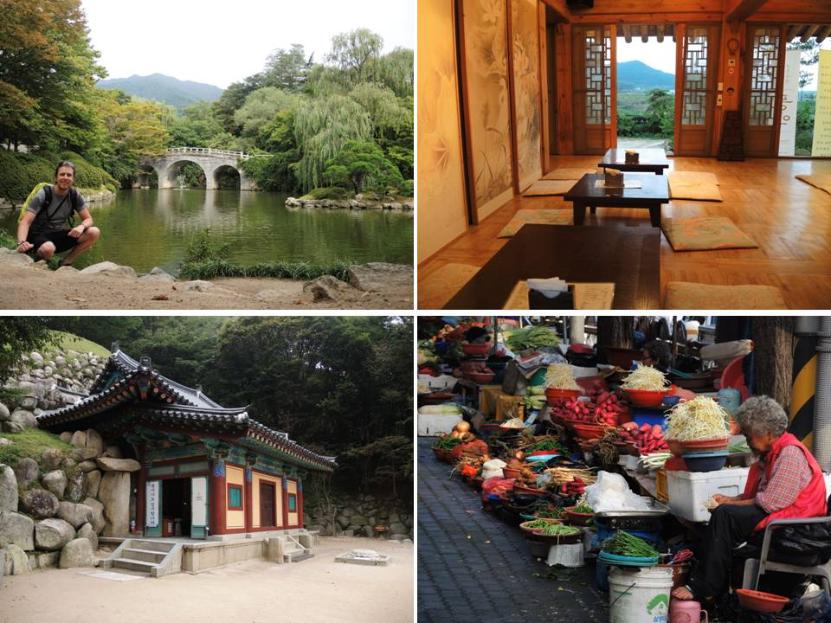 Yangdong Folk Village
On my last day in South Korea I went to a small village, north of Gyeongju called Yangdong Folk Village. It's a 700 year old village which amazingly has been almost preserved throughout that entire period. There was a lot of destruction to many areas and buildings in South Korea during the Japanese invasion, however they didn't touch Yangdong Village. It's a living and breathing village with a few hundred houses that date back to the 1300's, with stone walls and thatched roofs. What made it even more special, was the fact that each house has its own little veggie patch. People in each home grow all sorts of fruit and vegetables meaning that everyone is living off the land. There are no shops or advertising and the entire town is UNESCO World Heritage listed, so thanks to their funding it should remain this way. It's a fascinating place and feels like you're walking through a Zelda game.
After exploring a village for a few hours I had some food, jumped on the bus back to Gyeongju and then caught another bus on to Busan for the next flight!