Travel Blog: Port Douglas - Queensland, Australia
13.07.2017 - 23.07.2017

26 °C
Port Douglas is a coastal resort town north of Cairns in sunny Queensland and is surrounded by some of Australia's most renowned natural wonders. With a population of just over 3,000 people it gets inundated with many more tourists than this number who flock to the area. It was originally established as a gold mining town in 1877 and there are still some great old buildings which at to the towns charm.
It was a winter break for us, escaping from Australia's cold south along which is typical for many Victorians. A couple of days in Cairns followed by 8 days in Port Douglas. We flew into Cairns from Melbourne and bunked in Globetrotters Backpackers for the night which was clean and close to the city centre.
Cairns has loads to see and do in it's own right and many travellers use Cairn's as a base for further travel. It's quite large with ~150,000 people with some highlights that include:
Cairns Highlights
The Botanic Gardens: Fantastic selection of tropical plans and walks which will give you a sample of what lies further afield. This includes trails, a Bamboo Forest, Rainforest Boardwalks and a Café.
Centenary Lakes: Located next to the Botanic Gardens, check out the rainforest boardwalk that goes through the forest and ends at several small lakes and creeks.
Northern Beaches: As there is no swimmingbeach in Central Cairns, you can head north to Trinity Beach, Yorkeys Knob, Palm Cove, Kewarra Beach and more.
The Esplanade & Lagoon: The Esplanade and Pier run along the waterfront right by the city centre. Take a dip in the Lagoon, the free pool is perfect to cool down without the crocodile and stinger threat!
Rusty's Market: A great fruit and veg market showcasing some exotic local produce. If you're there on a Friday, get some tasty lunch and coffee.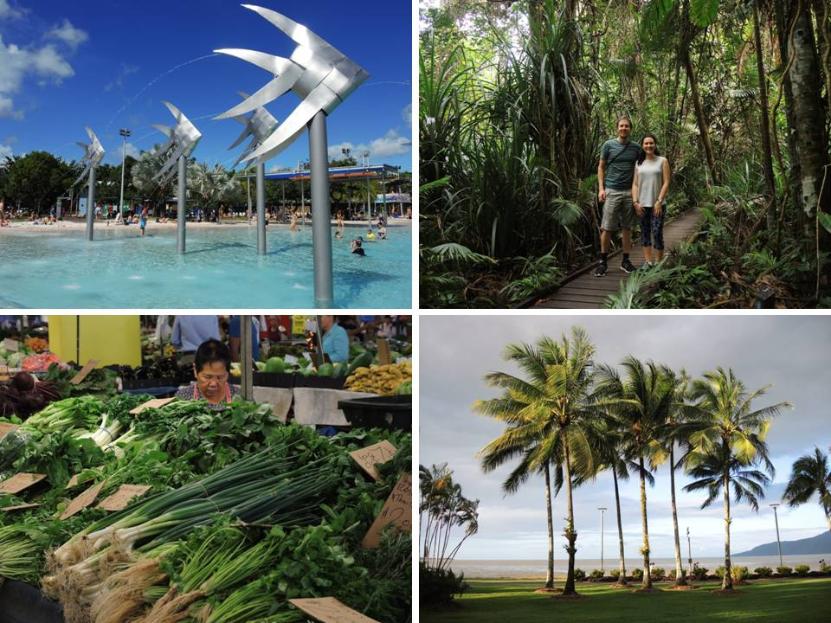 We took a shuttle to Port Douglas (about 1 hour north) and arrived on a Friday night, on the last weekend of the school holidays. It's a buzzing place with loads of cafe's, restaurants and quirky pubs all serving great food.
We stayed at Club Tropical Resort, which was centrally located just around the corner from the main street directly opposite Port Douglas' famous Sunday Market. A huge room with a kitchenette, pool, spa and everything you need. Port Douglas is a place that you can choose to do nothing and have a relaxing break, or cram your days with adventure. We chose to do a mix of both. We decided to rent a car and explore the surrounds ourselves every other day, as opposed to joining the plethora of day trips available. Fiona at Paradise Wheels was great and gave us a good rate for 3 days that weren't in a row.
Even if you're short on time, there are 3 day trips that are a must. The almighty Great Barrier Reef, The Daintree Rainforest (which Mossman Gorge can be included in) and a trip south to Palm Cove and Kuranda.
Port Douglas Highlights
Four Mile Beach: Relax, swim or walk one of the coasts most impressive beaches.
Wildlife Habitat: Check out koalas, kangaroos, snakes, crocodiles, cassowaries, tree kangaroos and more.
Rent a Boat: Cruise up the river into the mangroves in your own time. Take some snacks, do some crocodile spotting and soak it up. Port Douglas Boat Hire rents them out and you don't need a boat licence.
Sunday Market: loads of local crafts, food, clothing, music and more. Every Sunday from 8:00am to 1:00pm.
Food: There are plenty of cafe's restaurants and pubs serving great food, for all budgets and tastes.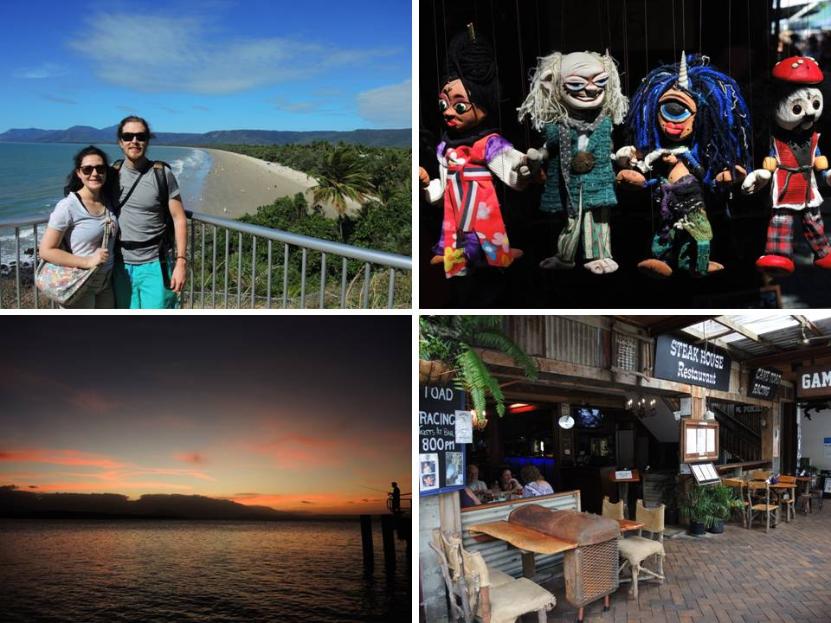 Mossman Gorge
Mossman Gorge is a pristine wilderness in the southern part of Daintree National Park about 20 minutes drive from Port Dougals. There are swimming holes, a suspension bridge that runs across Rex Creek and a scenic 2.4-kilometre rainforest walking track . It's home to over 430 species of birds, 18 species of reptiles and 12 species of amphibians. Well worth a visit.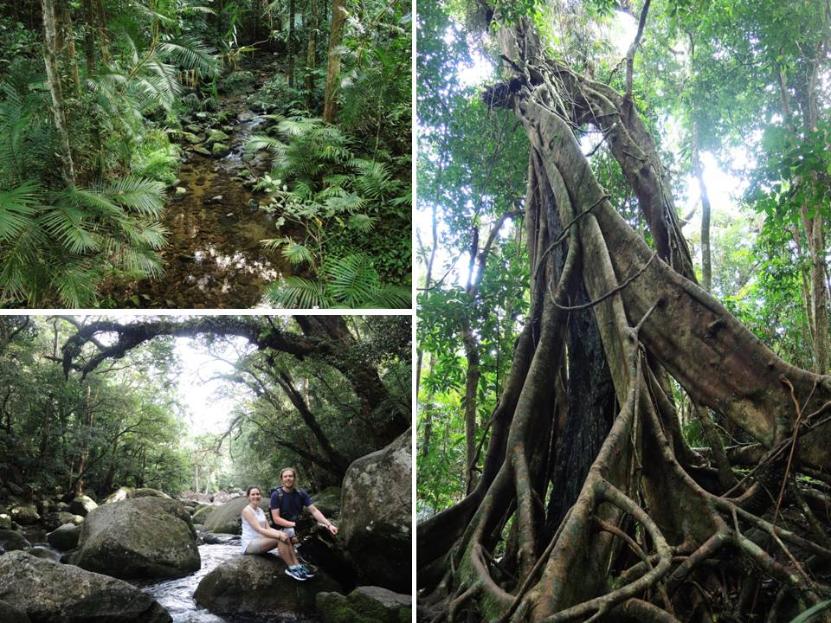 The Great Barrier Reef
The world renowned Great Barrier Reef is the worlds largest coral reef system spanning over 344,400 square kilometres and stretching 2,300 kilometres (from north to south). Unless you fly over it, it's impossible to grasp it's sheer size: 2,900 individual reefs and and 900 islands. The variety of marine life is incredible with over 1,500 species that live on the reef. With the ever heightening concerns of damage due to climate change and other factors, check it out sooner rather than later.
From Port Douglas there are a number of options available to visit the reef. Large boats with 100-450 passengers, medium sized boats of 30-60 passengers and smaller boats which don't go all the way to the outer reef. The best areas include Agincourt, Opal and Tongue reefs. There are loads of 'tourist information' shops and brochures everywhere however they're generally just outlets for the tour providers. Broadly there are 3 main companies:
Quicksilver: Operate a large boat and have setup a permanent pontoon on the outer reef with various activities. A good option unless you don't like crowds. They also have smaller boat options that take you to 3 outer reefs called Poseidon.
Calypso: An independent operator, with boats and a schedule very similar to Poseidon. They also offer specialised diving options.
Wavelength: Another independent company that offers smaller group tours that go to Opal Reef, St Crispin Reef and Tongue Reef.
All options are good with solid reviews. Their schedules are similar with snorkeling equipment included, snacks, a buffet lunch and knowledgeable staff. We chose a dive boat with Calypso in the end as they go to Agincourt Reef and only had about 25 people on board. We explored 3 reefs, with a full hour at each. The marine life was incredible.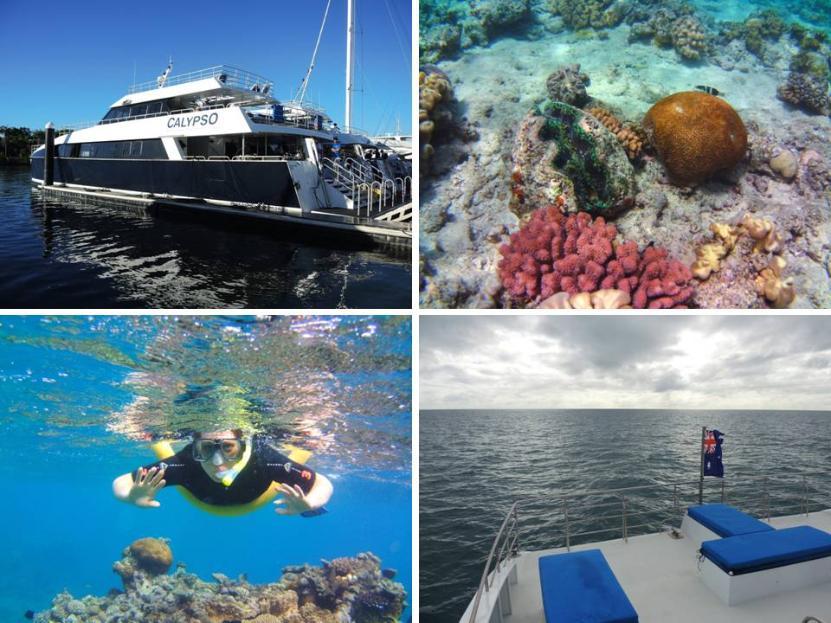 Kuranda & Palm Cove
One of the popular day trips from Cairns or Port Douglas is Kuranda, a small town located in the Atherton Tablelands 330m above sea level. It's a small hippy town with some big attractions - a scenic railway that winds it's way through the rainforest, the impressive Barron Falls and a cable car that give you a view from above.
We ended up driving to Kuranda, having lunch and viewing the falls from the raised walkway just out of town. A few hours of mountain biking in Smithfield (home to the Mountain BikeWorld Cup), and then enjoying some great food in Palm Cove made for a fantastic day.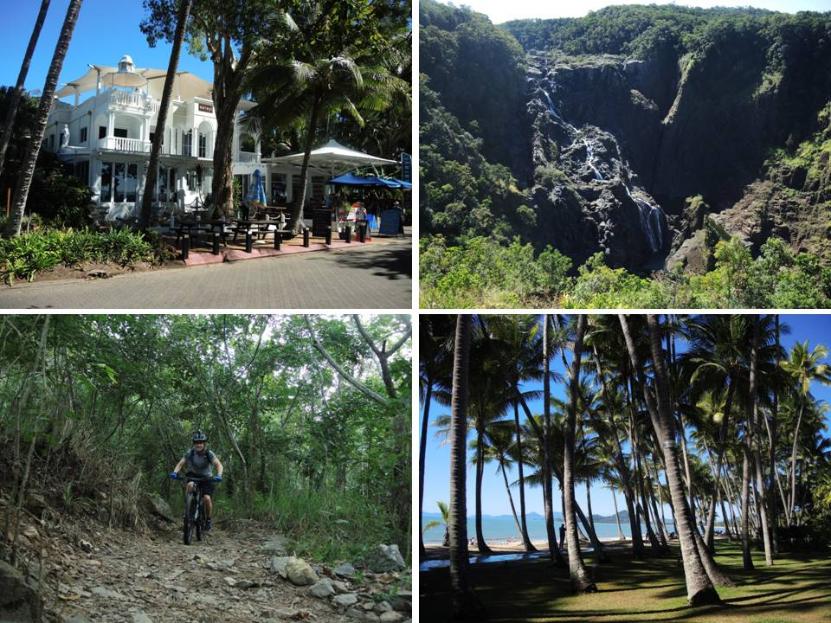 The Daintree Rainforest
The Daintree Rainforest is the oldest continuously surviving tropical rainforest in the world, thought to be 165 million years old. It is around 1,200 square kilometres of tropical rainforest, the largest in Australia. It makes up only 0.1% of Australia's landmass yet is home to 3000 species of plants and a rich diversity of animals. This includes 1200 types of insects, 663 species of vertebrate animals and 40% of all Australian bird species. Of these, 39.5% are rare or endangered.
There are day trip tour options available from Port Douglas or you can drive yourself, which is what we did. A good way to start is to jump on a boat at Daintree Village and do a crocodile tour. It's an eerie experience and you're pretty much guaranteed to see some either on the river bank or swimming past your boat.
To enter the heart of the Daintree, means getting across the river on a car ferry which only takes a few minutes unless it's a busy time of day. We got there at around 10:30am and had to wait around 1 hour, so it would be best to get there earlier. Once you're in, explore trails, swimming holes, beaches, information centres and cafes to your hearts content.
Daintree Highlights
Waluwurrigga Alexandra Range Lookout Point: For great views.
Jindalba: Scenic walking trails.
Cow Bay: Secluded beach.
Daintree Ice-cream Company: Tropical fruit flavoured ice-cream.
Boardwalks - Marrdja , Dubuji & Mangrove: Explore the mangroves & spot a cassowary.
Cape Tribulation & Kulki Lookout: A great view for sunset.