Travel Blog: The Overland Track - Tasmania, Australia
07.02.2016 - 12.02.2016

21 °C
We visited Cradle Mountain a few years ago and have always said we must go back and do the overland trail. The overland track is regarded as one of the best multi-day treks in Australia. It starts right at the base of Cradle Mountain, Lake St Clair National Park in Tasmania. It runs for 65 km to Lake St Clair or if you add the hike along Lake St Clair it brings the length to 82 km. Plus there's also a plethora of side trails that allow you to explore mountain peaks, lakes and waterfalls.
Around 8,000 walkers complete the track each year as it winds through changing terrain including sheer mountains, rivers, alpine plains and temperate rainforest. Oh and it's all part of the Tasmanian Wilderness World Heritage Area.
We set out to hike the trail over 6 days in early February and do as many side trails as we could. The weather can vary a lot, all year round so we made sure we took gear that would keep us warm and dry no matter what the conditions were. Luckily we were in for a treat, a forecast for no rain and 20-23 °C every day. Perfect!
Overland Track Day 1: Ronny Creek to Waterfall Valley
Public transport to and from Cradle Mountain is quite limited, especially on a Sunday however McDermott's Bus company run a service out of Launceston at 8:00am which suited us. It terms of gear, we made sure we packed as light as we could whilst ensuring we were ready to face the elements and have enough food to keep us going. Our packs were approx 18 kg complete with tent, mat, sleeping gear, cooking equipment, and clothing for all conditions (it can get to below 0 °C with snow even in summer).
We arrived, signed in and were on the trail by about 11:00am. Day 1 is regarded as one of the toughest days as it includes a fair altitude gain of around 800 metres. Plus, on day 1 your pack is at its heaviest!
A large portion of the trail is raised boardwalk which makes the walking much easier as we gently climbed up to Crater Lake. The trail towards Marion Lookout is more challenging and involves chains for leverage. It's a great view and very popular for day walkers from Cradle Mountain. We ate lunch at Kitchens hut and then did the optional ascend to the top of Cradle Mountain (1,545m). It's quite a scramble to get there and takes 2-3 hours to do however the 360° views are well worth it.
We got into the Waterfall Valley camp at around 8:30pm and cooked up some rice and salmon before the sunset, right by the creek. What a beautiful setting.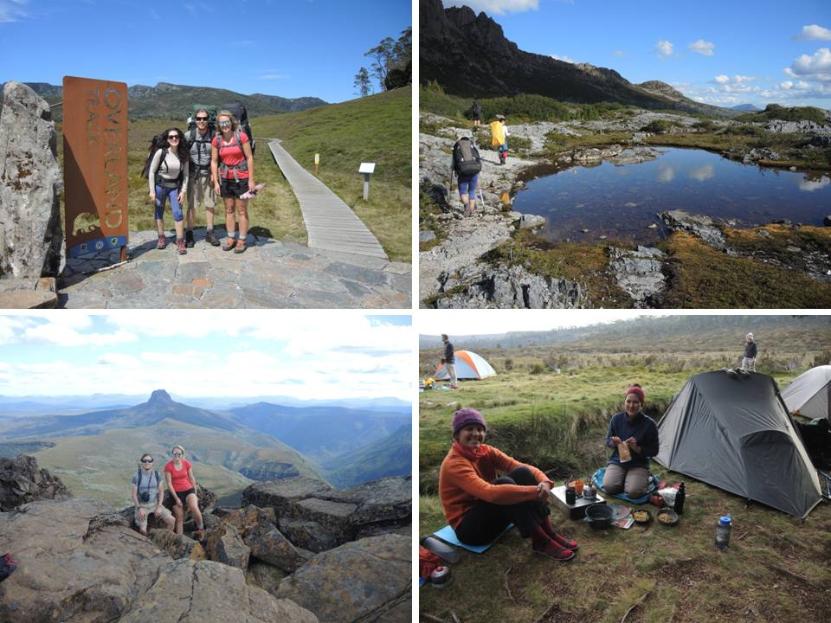 Overland Track Day 2: Waterfall Valley to Lake Windermere
Day 2 is a pretty gentle day of 7.8 km of undulating terrain over buttongrass plains which winds passed some crystal clear lakes. A few friends told us we will encounter plenty of snakes and we saw our first of five on day 2! It was a tiger snake approximately 1.5m long, off the trail far enough away to be any concern.
We took the side trip to Lake Will, a 1 hour return trip to relax and laze on the sandy beaches whilst we ate lunch. Lunches generally consisted of a mix of mountain/flat bread, cheese, salami, carrot, celery, vegemite, vita-weats & peanut butter. For snacks, we made our own scroggin / trail mix (a sweet and a savoury version), some chocolate and lollies. Spending time in the wilderness really does make you appreciate food! It was a great setting especially beneath the backdrop of Barn Bluff.
From Lake Will the trail goes on to Lake Windermere high across the plateau with expansive views east and to the west of the alpine moors. Not too long after we arrived at Windermere Hut right at the edge of a myrtle forest. Tent platforms have been built in this camping area which help reduce environmental damage and help keep your tent drier. The nights got a lot cooler, perhaps 5°C. If you are planning to go, make sure you have a sub zero rated sleeping bag.
We cooked up an Indian dish with a packet sause and pre-cooked rice for dinner, played some cards and chatted with other hikers before hitting the hay early.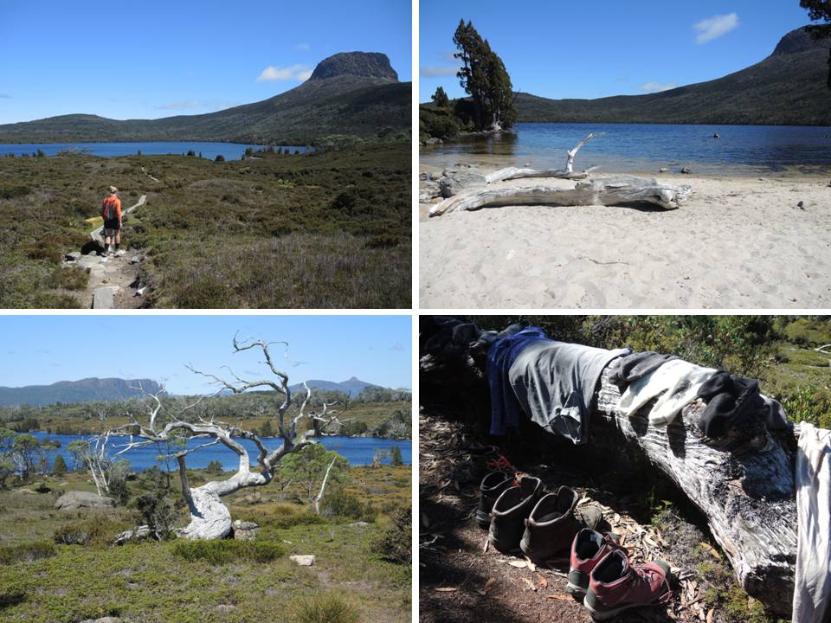 Overland Track Day 3: Lake Windermere to Pelion
The third day is the longest at 16.8 km in length (if you don't count the side trails). However it is fairly flat and has a lot of raised boardwalks which helps. It starts out through the heathland and moorland to one of the highlights,the Forth Valley Lookout. It's a deep, dramatic valley which apparently would have been logged if it weren't for some passionate protesters in the 1980's.
We continued through a Pine Forest Moor across Pelion Creek and into a myrtle-beech rainforest on the eastern part of Mt Pelion West. We then decended to Frog Flats which is the lowest section of the Overland Track at 730m above sea level. Forth Creek was our lunch spot (for us and the many mosquitoes).
You really notice the change in flora throughout the day. By the end, we passed through an open eucalypt forest on the edge of Pelion Plains. After setting up camp at Pelion Hut we took in the spectacular dolerite spires of Mt Oakleigh and did some wildlife spotting, as the sun started to set. We were lucky enough to spot wallabies, a wombat, possums and Pademelons.
The evening dinner consisted of soupy mix of miso, tofu, noodles, broccoli and dehydrated mushrooms.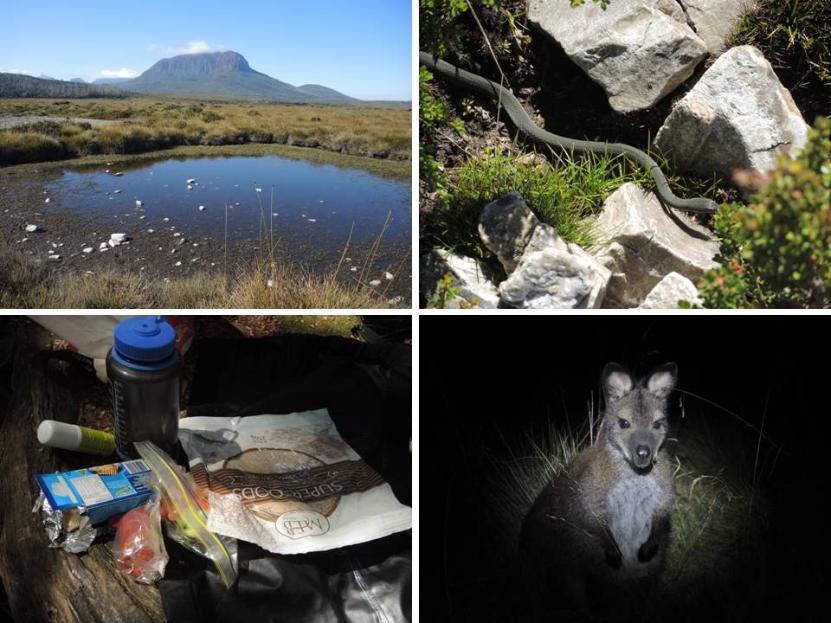 Overland Track Day 4: Pelion to Kia Ora
The length of day 4 is approx 8.6 km's however we decided to climb Mt Ossa which almost doubled that and meant we climbed a little more than we did on day 1. It's basically all the way up to Tasmania's highest mountain, Mt Ossa and then back down to the same altitude we started at. Pelion Hut and Kia Ora Hut both sit at 850m in elevation.
The trail initially goes along Douglas Creek and climbs up 300m through rainforest to Pelion Gap. Pelion Gap is an exposed alpine plateau between Mt Pelion East and Mt Ossa. As the weather was ideal, we summitted (Mt Ossa 1617 m) leaving our big packs at Pelion Gap. We took small/packable day packs which were handy to carry just the essentials - water, food and layers. We reached the top which was covered in cloud and within a few miniutes it lifted and exposed an increadible view of the whole area, allowing us to see where we had come from and where we were headed next.
The descent back down to our packs and then on to Kia Ora Hut was through beautiful Pinestone Valley with views of Cathedral Mountain. A big day and one of our favourites. We found ourselves a platform, setup camp and tucked into some pasta with veg for dinner followed by a chia/hot chocolate pudding (delish).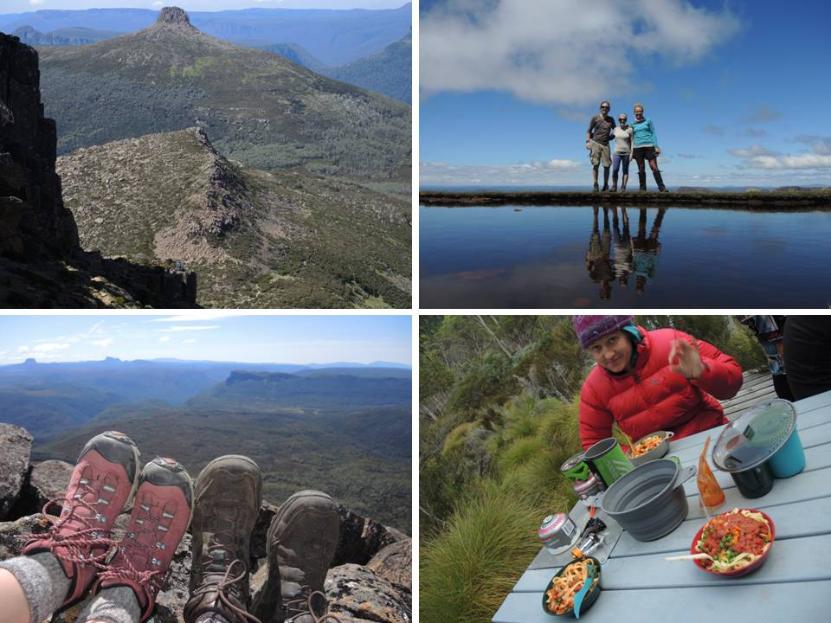 Overland Track Day 5: Kia Ora to Windy Ridge (Bert Nichols Hut)
A curious and hungry possum woke us up during the night as he tried to get into our bags for food. Luckily we weren't back in the USA when we had to be wary of bears! Day 5 was a great day, a lot of the trail is immersed in rainforest as we skirted around Castle Crag and by the Mersey River.
About an hour into the walk, we checked out Du Cane Hut which was built in 1910 by Paddy Hartnett, a bushman and miner. Further along we took the first side trip which went down to D'Alton and Fergusson falls (1 km return). Of the 2, Fergusson was most impressive and lead to us chilling out with a hot drink and some snacks as we laid in the sun.
The next side trip is to view Hartnett Falls (1.5 km return), which are the tallest waterfalls of the three. For all 3 falls, we left our pack at the track junctions. More relaxation here as we ate lunch on top of the falls, swam and hiked to the bottom of the falls for a view.
Back on the main track, we began the gradual climb to Du Cane Gap which is situated between the Traveller Range and the Du Cane Range. After reaching the top, there was a steep descent into a bowl-like area of the Du Cane Range. The whole region was sculpted by glaciers thousands of years ago. Soon after the canopy opens out we made it to the next camp: Windy Ridge and Bert Nichols Hut. This place was spectacular. It's almost totally surrounded by the stunning Du Cane Range.
With limited camping platforms, we slept in the huts after a feast of polenta, with dehydrated muchrooms, peas and gravy!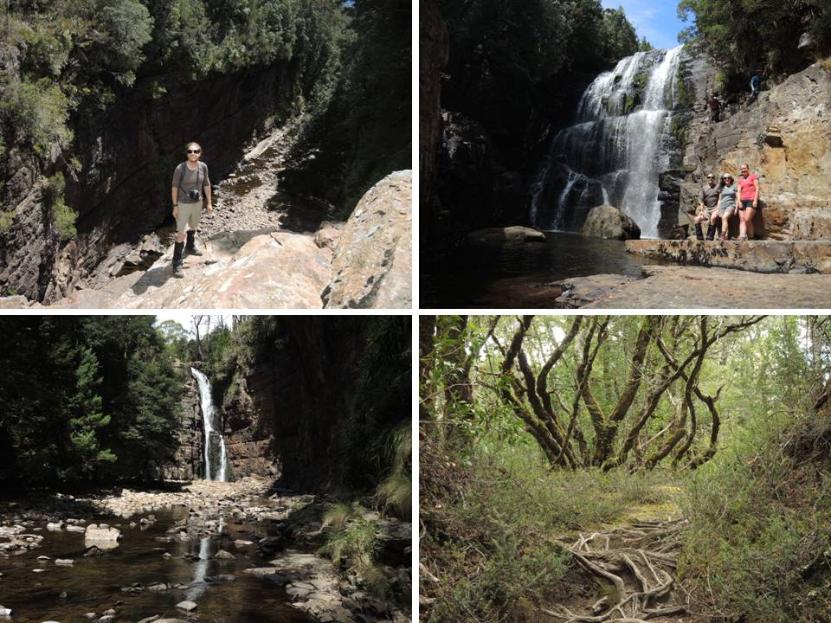 Overland Track Day 6: Windy Ridge to Narcissus
Day 6 was upon us and it all came too soon! The ferry at on Lake St Clair at Narcissus was pre-booked for 3:00pm so we had 9 km and plenty of time to get there.
After a tasty breakfast of oats, chia seeds and nuts we set off for the easiest day that slowly decends to Lake St Clair along the glacier's path to Narcissus Hut. The scenery was different again with tall eucalypts and heath shrubs with loads of birds chirping. As we closed in towards Narcissus River, we took in the beautiful dolerite columns of Mount Olympus.
The Narcissus River crossing is on a suspension bridge which was fun and before we knew it, we arrived that Narcissus Hut right by the Narcissus River. It's in this hut that we radioed the info centre at Lake St Clair to confirm our ferry booking (which all hikers have to do).
We sprawled out in the sun after a swim by the jetty as we waited for the ferry to arrive and soaked up the last 40 minutes of this world class scenery. The ferry dropped us at Cynthia Bay and we signed out. What a journey. It was an experience of a lifetime with memories that will forever stay with us. If you are considering the hike yourself, do yourself a favour and book it in!