Travel Blog: Taipei, Taiwan
09.09.2016 - 16.09.2016
28 °C
Taiwan was a bit of an unknown destination, I knew about Taipei and had read that there were some good national parks but other than that, I wasn't really sure what to expect. They are a manufacturing giant just off the coast of China with 23.5 million people with a relatively small land mass. One of the first interesting things to understand was the fact that they aren't officially classified as their own country (despite having their own government and military). It's a little confusing however it turns out that when China had a civil war last century, the communist party won and the opposing party sought retreat on the island of Taiwan, claiming to be the real 'China'. Over time this claim dissipated with the rest of the world, who now acknowledge mainland China with Taiwan being left in a peculiar situation.
I flew into Taipei and quickly realised there was loads to see and do. It's a bustling large city with a super efficient subway system. Neon signs, tall buildings, endless shopping areas combined with great street food and a traditional culture that seemed to be a fusion of Chinese, Japanese and other Asian influences.
For the first few days, I stayed at JV's Hostel right next to a night market on Tongua St, not far from Taipei 101 and returned to stay at 3SS not far from Taipei Main train station. Both were great - small rooms but had everything you'd need.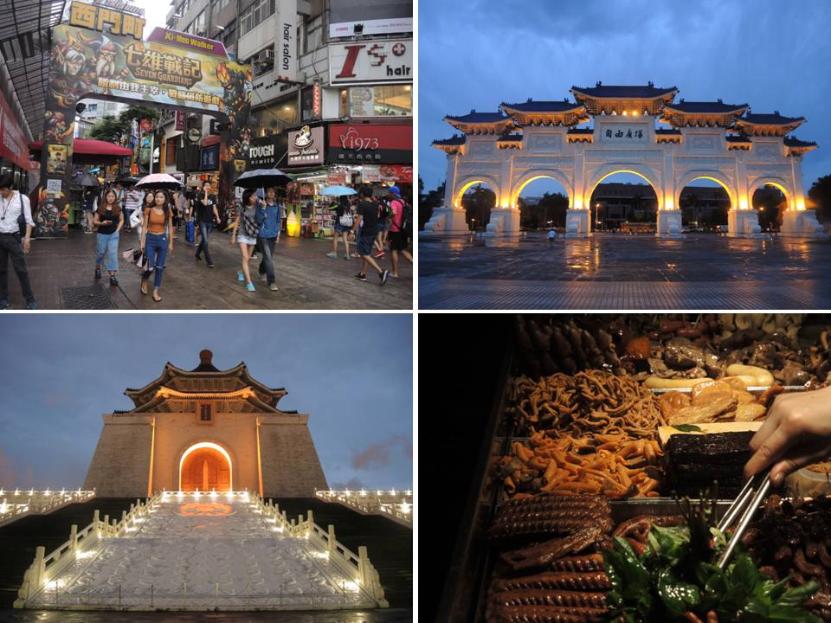 Sights in Taipei
There were some really great highlights including:
Taipei 101 - Formerly the tallest building in the world (currently 4th), at 509m with 101 floors and

pagoda

design, it dwarfs every other building in Taipei.
Elephant Mountain - A walk up Elephant Mountain is an ideal way to get a view back over the city and see it's scale.
Memorial Hall / Liberty Square / the City Gate - Are architectural show pieces.
Temples - Longshan Temple, Boan Temple & Xingtian temple are very popular with worshipers and look fantastic.
Shopping Next to Ximen Station - Is bustling with neon signs, people shopping and eating into the night.
Presidential Office - You wont be able to get too close but it's an impressive 100 year old b

aroque-style building.

1914 Creative Park - Home to all sorts of creative talents and buildings including an upside down house! The park is used to showcase the talents of theater groups, painters, wood sculptors, writers, movie producers and more.
Shilin Night Market - Taipei's largest night market with a huge range of culinary options.
National Palace Museum - Not far from Shilin Night Market, the palace has a huge

collection of nearly 700,000 pieces of ancient Chinese imperial artifacts and artworks which is one of the largest collections of its type in the world.

Maokong Gondola - South east of the city is a very scenic gondola that climbs up for 20 minutes into lush mountains where tea is grown, produced and tasted.
It's a city that you certainly need at least 5-7 days for. The subway is great but like any city, it's always good to walk from place to place and dodge the endless stream of scooters!